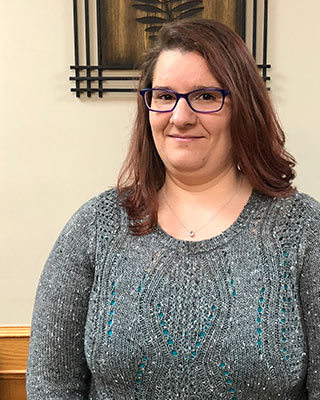 Michele Harris
Administrative Assistant
Michele was born in Flin Flon, Manitoba, and lived there for 28 years. She completed her Office Education course from Northlands College, in 2009, and worked with a local CA firm. In 2014, she moved to North Battleford, to accept a position with Swanson Gryba & Company.
Michele has 2 girls (dogs), Chloe and Roxie, and they are her world. Michele spends most of her free time with her girls, taking them to the park and also enjoys the outdoors - camping and fishing with family and friends, watching movies and reading.
Q and A
Q. If you could get a tattoo what would you get and why?
A. My next tattoo will either be a portrait of my girl Roxie (dog) or a bouquet of my grandparent's favorite flowers in their favorite colors as a tribute to them.
Q. If I could go back in time I would tell my younger self…
A. I would tell my younger self that she is important, she should not care about what other people think and to always listen to her mother's advice and FOLLOW IT…lol
Q. If you were stranded on a deserted island and could only have three things with you, what would they be and why did you choose them?
A. I would choose my two girls (dogs) Chloe and Roxie because I would be lost without them, fishing rod with all components to catch food and a multi-purpose knife to use for food and constructing a shelter.
Q. If you could have any super power what would it be and why?
A. I would choose to have the ability to read animal's minds. I would like to be able to understand what is wrong and how I could help my girls (dogs) better.
Q. At what store would you like to max out your credit card?
A. I would like to max out my credit card at any pet store so I could help as many animals in need at shelters.